ASTRONOMIC CALENDAR
CALENDÁRIO ASTRONÔMICO
Design and coded at estúdio logos by Julio Maiutti, Tainá Fechio, Laíssa Moreira e Pedro Fabra.

Printed and digital calendar – a poster and web program that runs on your computer or mobile phone


Desenhado e programado no estúdio logos por Julio Maiutti, Tainá Fechio, Laíssa Moreira e Pedro Fabra.

calendário impresso e digital – um cartaz e um programa na web, que roda no computador ou celular.
The white triangle indicates where the sunlight comes from; on the moon and earth, it is possible to see where it is day and where it is night. The grey cross rotates with the sun and marks the positions of the 4 moon phases.

The coloured lines correspond to the direction of the sun's incidence at the solstices and equinoxes. clicking on them takes the model to each of these dates and clicking on the earth returns you to the present.

Mouse scrolling allows you to view the entire set from the north or south.


O triângulo branco indica de onde vem a luz do sol; na lua e na terra é possível ver onde é dia e onde é noite. a cruz cinza gira com o sol e marca as posições das 4 fases da lua.

As linhas coloridas correspondem à direção da incidência do sol nos solstícios e equinócios. o clique nelas leva o modelo para cada uma dessas datas e o clique na terra volta para o presente.

A rolagem do mouse permite ver todo o conjunto pelo norte ou pelo sul.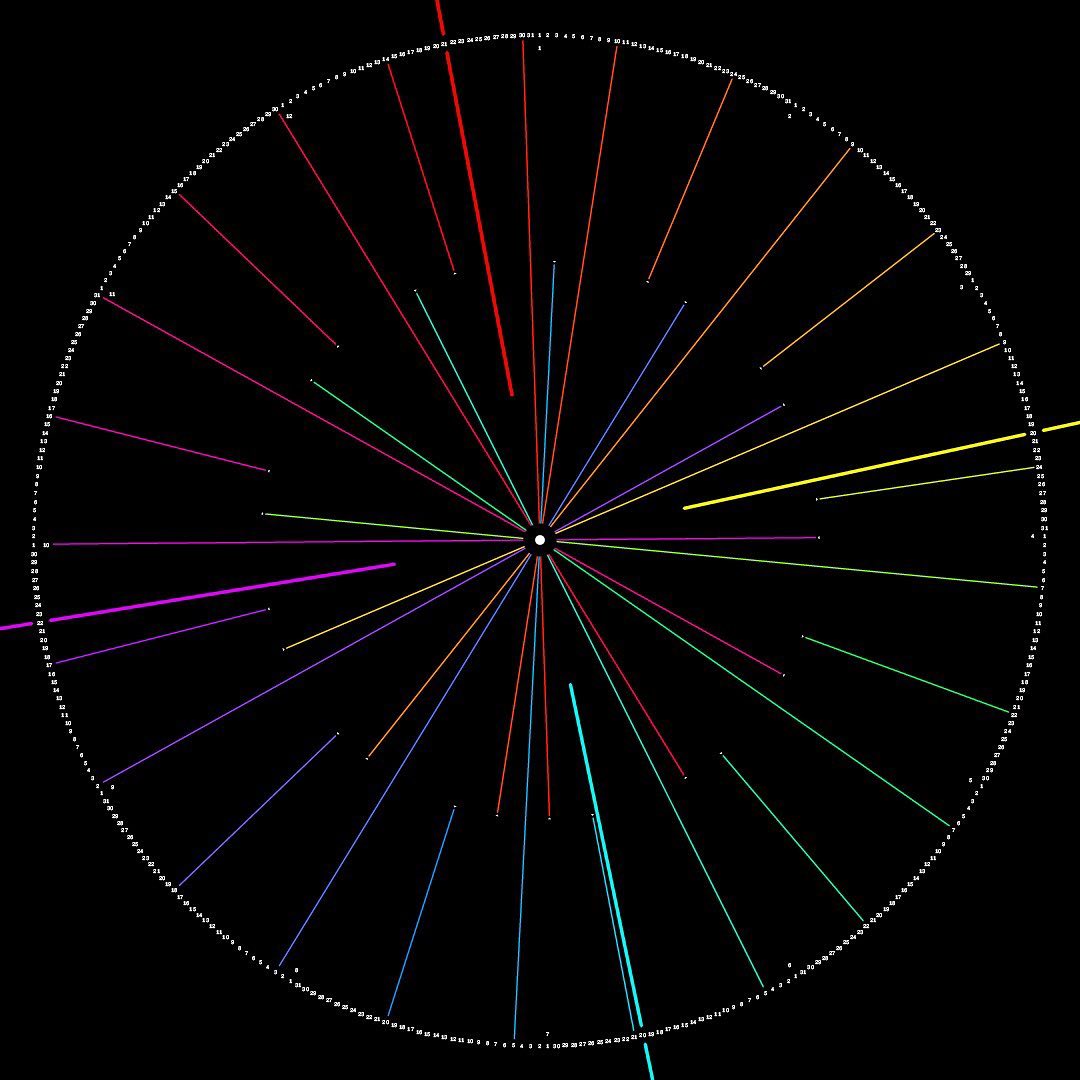 On the printout, we explore the real scale of the stars – the earth (in the centre), the sun (the perimeter drawn by the dates), the moon (at the other end of the coloured lines), and the earth-moon distance are all on the same scale.

The layout is equal to the digital model seen by the southern hemisphere.

The year begins at the noon position, and with the earth's axis stopped at the centre, the sun and moon rotate clockwise.

The lines indicate the direction of the sun for each date; the thick ones mark the seasons and the thin ones, the full and new moons.
No impresso, exploramos a escala real dos astros – a terra (no centro), o sol (o perímetro desenhado pelas datas), a lua (na outra extremidade das linhas coloridas) e a distância terra-lua estão todos na mesma escala.

A diagramação é como o modelo digital visto pelo hemisfério sul.

O ano começa na posição das 12h, e, com o eixo da terra parado no centro, o sol e a lua giram em sentido horário.

As linhas indicam a direção do sol a cada data; as grossas marcam as estações e as finas, as luas cheias e novas.